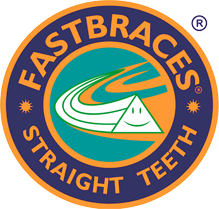 Fastbraces® Technology is an innovative orthodontic treatment, specially designed to move teeth fast and efficiently with gentle forces giving beautiful, straight teeth in a matter of months… not years! The triangular-shaped brackets, along with a super-elastic wire, create the ideal combination of gentle forces to move the teeth in a more natural way. Patients will typically start seeing results within the first few weeks and will truly experience the Fastbraces® Difference.
Fastbraces® Highlights
Fast – Treatment time that is measured in months instead of years!
Easy – Retainers for only 15-20 minutes a day .
Safe – Tested by leading Universities in the U.S., Europe, and South America.
Quality – The original, certified by the Inventor and made in the U.S.
Simple – Almost always Non-Extraction treatment.
Clean – Possibly less decay around brackets due to short treatment duration.
Clear – Aesthetic ceramic brackets available with a tooth colored wire.